Vancouver B.C. - Tower Resources Ltd. ("Tower" or the "Company") reports results from the remainder of its 2016 drill program on the flagship Rabbit North project, near Kamloops, British Columbia. During this 3397m drill program, drill hole RN-008 intersected 200 metres of 0.30% copper and 0.15 grams per tonne (g/t) gold, including a 72m interval of 0.47% copper and 0.20g/t gold (see Tower Press Release, December 8, 2016). Follow-up drill holes RN-010 and RN-011, reported here, demonstrate continuity of mineralization in the area of RN-008.

The road-accessible Rabbit North property comprises approximately 16,400 hectares in the prolific copper porphyry belt of southern British Columbia. The producing New Afton copper and gold mine is approximately 14 kilometers east of the main Rabbit North targets; Rabbit North is also 28 kilometers east of the world-class Highland Valley Copper Mine operated by Teck Resources Ltd.

President Mark Vanry states, "Drill holes RN-010 and RN-011 have demonstrated the continuity of mineralization near RN-008. Despite smaller grade intervals-due to the intersection of several interposed late dikes-copper and gold mineralization and grades show remarkable continuity."

Drill hole RN-010 was a vertical drill hole from the same collar as RN-008. Mineralization in RN-010 started at top of bedrock. As in RN-008, chalcopyrite, associated with pyrite and commonly secondary biotite, occurs in veinlets and as disseminations replacing mafic phenocrysts and/or primary magnetite; moderate to strong albite alteration is associated. Mineralization is hosted in Nicola Group volcaniclastics to volcanics. Mineralized intervals were separated by two 10-15m wide, late unmineralized dikes.

Drill hole RN-011 was drilled to the southeast, from the same collar as RN-008. From top of bedrock RN-011 intersected a thick sequence dominantly comprising late, unmineralized mafic and quartz-feldspar porphyritic dikes. Below this, a sequence dominated by mineralized hydrothermal breccias was intersected to end of hole. In some areas mineralization appears similar to RN-008 (chalcopyrite veinlets and disseminations with biotite, replacing mafic phenocrysts and/or primary magnetite). However, dominantly mineralization is related to hydrothermal breccias. These clast-rich breccias, dominantly cemented with rock fragments with common magnetite and chalcopyrite, contain clasts altered by K-feldspar with truncated magnetite+/-chalcopyrite veinlets. As such, the breccias appear to have occurred syn-mineralization. Breccias are important and are common hosts to mineralization in alkalic porphyry systems (e.g. Mount Polley, British Columbia); RN-011 is an important follow-up target.
Table 1. Drill hole intercepts of remainder of drill holes from 2016 program
| DDH | From (m) | To (m) | Width* (m) | Cu (%) | Au (g/t) | | Cu Eq** (%) |
| --- | --- | --- | --- | --- | --- | --- | --- |
| RN-007 | 98 | 164 | 66 | 0.09 | 0.21 | | 0.25 |
| RN-009 | 71 | 79 | 8 | 0.15 | 0.13 | | 0.25 |
| RN-010 | 94 | 134 | 40 | 0.33 | 0.19 | | 0.48 |
| RN-011 | 257 | 287 | 30 | 0.26 | 0.14 | | 0.37 |
*Width refers to drill hole intercept. True widths have not been determined.
**Copper Equivalent (Cu Eq) is used to express the combined value of copper and gold as a percentage of copper, for illustrative purposes. No allowances have been made for recovery losses that would occur in a mining scenario. Calculated on the basis of $2.30 per pound of copper and $1240 per troy ounce of gold, using the formula: Cu eq = [(%Cu)(22.0462)($lbCu)+(gptAu)(1/31.1035)($ozAu)]/[(22.0462)($lbCu)

Figure 1. Map of 2016 drill hole locations with interpreted property geology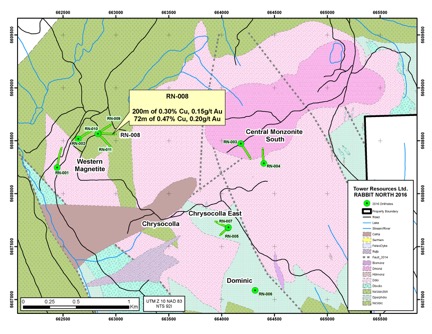 Figure 2. Mineralized breccia in drill hole RN-011 (285.8m)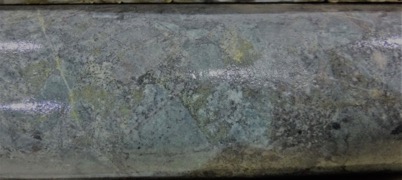 Drill hole RN-009 was drilled from the same collar as RN-010 and RN-011, and drilled to the northeast. Drilling intersected Nicola Group volcanics and volcaniclastics throughout. Although commonly mineralized with magnetite+chalcopyrite veinlets, and assaying up to 0.58% copper and 0.13g/t gold (185-187m), mineralization was inconsistent.

Drill hole RN-007 targeted the Chrysocolla East zone, from the same collar as RN-005. Surface sampling at Chrysocolla East recovered up to 1.6% Cu and 1.9 g/t Au, with elevated palladium. RN-007 intersected altered and pseudobrecciated Nicola Group volcaniclastics, with calc-potassic (epidote, magnetite, pyrite+/-chalcopyrite) alteration. Mineralization is gold-rich, but generally weak in copper.

Table 2. Collar details of remainder of drill holes from 2016 program
| DDH | Diameter | Azimuth | Dip | Easting* | Northing* | Total Depth (m) | Zone |
| --- | --- | --- | --- | --- | --- | --- | --- |
| RN-007 | HQ | 290 | -60 | 664064 | 5607681 | 252.37 | Chrysocolla East |
| RN-009 | HQ | 050 | -60 | 662832 | 5608570 | 292.00 | Western Magnetite |
| RN-010 | HQ | 000 | -60 | 662832 | 5608570 | 188.37 | Western Magnetite |
| RN-011 | HQ | 135 | -60 | 662830 | 5608566 | 380.39 | Western Magnetite |
*All coordinates UTM NAD83 zone 10N

About Tower Resources

Tower Resources Ltd. (TWR.V) is a Vancouver-based junior mineral exploration company focused on the discovery and advancement of economic mineral projects, primarily in British Columbia. The company's key exploration assets are Rabbit North, Nechako Gold and More Creek.

Methods and Qualified Person

Drill core samples (generally 2-metre sample length) were prepared at Tower's core logging facility in Kamloops, BC, and processed for analysis at ALS Minerals' preparation laboratory in Kamloops, BC. Rabbit North samples were analyzed at ALS's ISO 17025:2005-certified North Vancouver laboratory for gold, platinum and palladium by fire assay and ICP-AES and for 35 elements, including copper, molybdenum and silver, by ICP-AES using an aqua regia digestion. Overlimit (>1%) copper analyses were completed by ICP-AES with aqua regia digestion. Blanks, standards and duplicate samples were inserted regularly into the sample sequence with a ratio of approximately one QA/QC sample out of ten. The 2016 Rabbit North drilling program and sampling protocol was supervised by Nils Peterson, M.Sc., P.Geo., Chief Geologist for the Company and Qualified Person as defined by National Instrument 43-101. Mr. Peterson has reviewed and approved the technical content of this news release.

Core intervals cited above represent apparent, not true widths; true widths are not known. Assay intervals above have been calculated with no cutoff value.

Some technical information contained in this release is historical in nature and has been compiled from sources believed to be accurate. This technical information has not been verified by Tower and may in some instances be unverifiable dependent on the existence of all historical grab and trench samples and drill core. Management also cautions that mineral resources on nearby properties are not necessarily indicative of the results that may be achieved on the subject property.

For further information contact:

Mark Vanry -- Director, CEO & President
(604) 558-2565
This email address is being protected from spambots. You need JavaScript enabled to view it.
www.towerresources.ca

Neither the TSX Venture Exchange nor the Investment Industry Regulatory Organization of Canada accepts responsibility for the adequacy or accuracy of this release.

Forward-Looking Statement Caution
This news release contains certain "forward-looking statements", as defined in the United States Private Securities Litigation Reform Act of 1995, and within the meaning of Canadian securities legislation. The Company cautions that forward-looking statements are based on the beliefs, estimates and opinions of the Company's management on the date the statements are made and they involve a number of risks and uncertainties. Consequently, there can be no assurances that such statements will prove to be accurate and actual results and future events could differ materially from those anticipated in such statements. The Company undertakes no obligation to update these forward-looking statements if management's beliefs, estimates or opinions, or other factors, should change, except as required by law. There are numerous risks and uncertainties that could cause actual results and Tower's plans and objectives to differ materially from those expressed in the forward-looking information. The reader is urged to refer to the Company's public disclosure which is available through the Canadian Securities Administrators' System for Electronic Document Analysis and Retrieval (SEDAR) at www.sedar.com for a more complete discussion of such risk factors and their potential effects.